I am making some changes to what I want to do in the Digital world. It has been about 14 years since I started designing Digital Scrapbook kits. I have taken about a year off, several times over the years. Well it's time for a break. I will still be making the blog train freebies and probably add other kits to my personal store here and there. But I am ready to move on to doing more craft type stuff for my family and friends and to inspire you to make things. Be sure to watch for these fun projects!
Last week was my 2nd youngest daughter's 18th birthday! Since one of my older daughters and myself were giving her a clothing shopping spree, I decided to do a card. I have been doing card challenges over at Split Coast Stampers for many years. It has been fun to even use my digital scrapbook supplies in these cards. Here is my gallery. A lot of times, I have forgotten to upload my cards, or I have just made one without doing a challenge. I want to start doing them more regularly. I do have a stash of cards I have made. My 2nd oldest daughter and her husband were talking about opening a coffee shop one day and I could sell my cards there. I may just start making some and offering them in my store here or on Etsy.
So here is the card I made for her…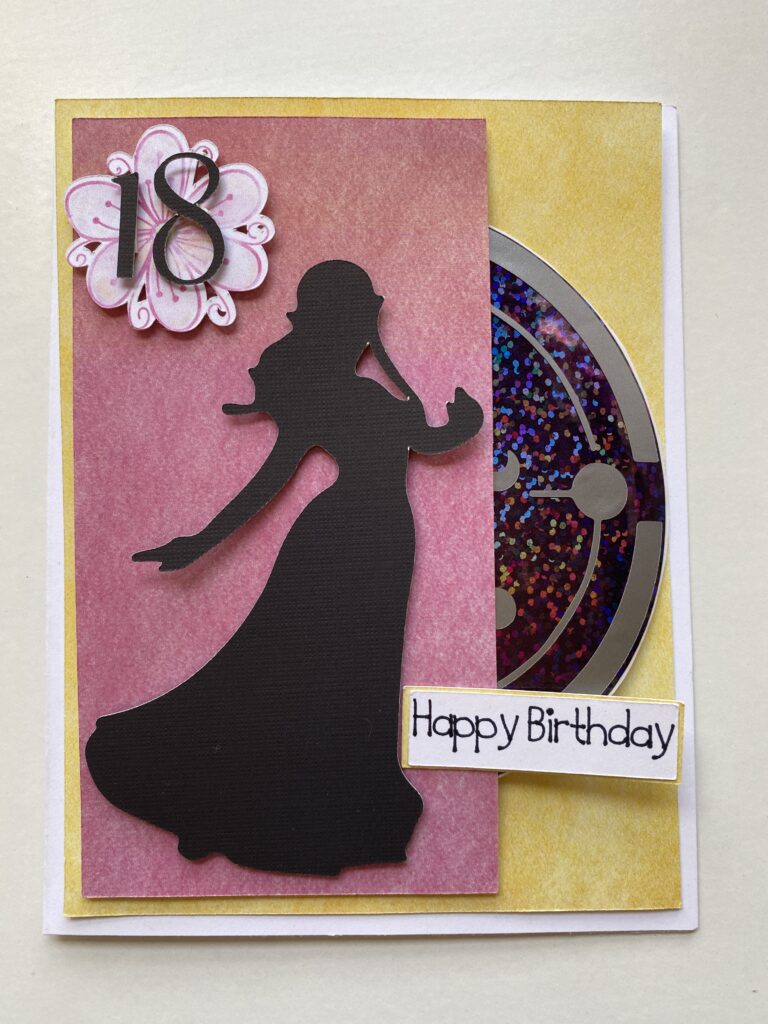 I made this on my Cricut Maker. The papers were leftovers in my stash from some digital papers I printed out. The flower is also one I uploaded to my Design space. I must have used it for a card that is not in my SCS gallery. I just found it here on my blog. They were from a prayer pocket cards I made awhile back.
The circle is a sticker is made using permanent vinyl, grey and holographic vinyl. It was a lot of fun making this, layered vinyl sticker. I did the sketch challenge at SCS for this card.
Have you ever tried your hand at making cards? They can be simple or complex. I have made them with digital scrapbooking kits. You can make one and just print it out as a finished project. Or even pull things into an 8.5×11 image and print out the parts, cut and assemble. Or do you have any scrapbooking supplies that you can use for a card. It is always nice to give and receive homemade cards! Be sure to share your cards here.