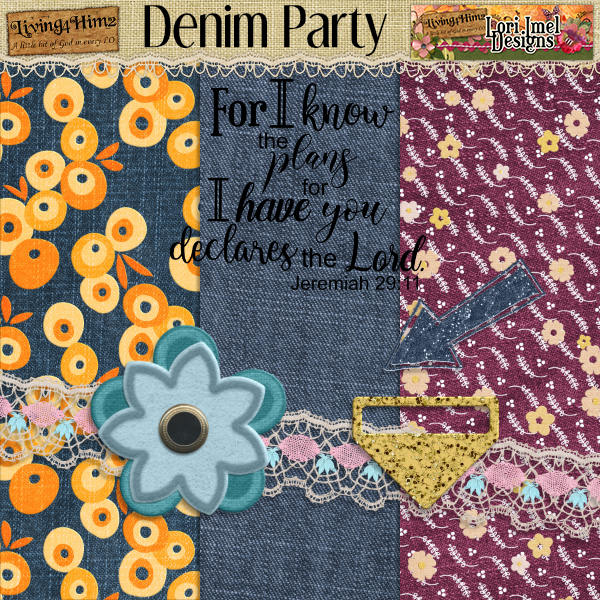 It's kind of hard to believe that we are now in the 4th month of 2021. I still don't have a great daily routine. In the past, my week days generally started the same. Now, every day is different. But I am sort of, slowly getting some routine, since most Mondays are similar, Tuesdays etc.
I almost did not participate in this blog train. My creative juices are almost nil. Recently I started knitting again, about a 2 month break- because of being so busy… I am making a red riding hood cape, in purple. It was some yarn that my mother bought & was planning to make something for my granddaughter. So I am using it to make her the cape, from "both" of us. Yesterday, I also remade a larger cosmetic bag into an iPad mini bag – it fits perfectly. I should blog about than on my Craft My Faith blog!
The theme for this month's Scrap Twist Blog train is Denim Party. Each of my papers are made with denim textures. The word Art I made was one of my mother's favorite verse. It also has been my middle daughters favorite for quite awhile. Since it was her birthday last weekend, I decided to go with it! Be sure to stop at each of the blogs to pick up these fun items.
KJDdesigns
Marniejo's House of Scraps
Nellie Bell
The Brown Owl
Brandi White Designs
Songbird Scraps Designs
Lori Imel Designs
here is mine…

I hope you enjoy this mini! Remember that God cares about you!